April 01, 2015
The (W)rites of Spring Poetry Evening – April 17, 2015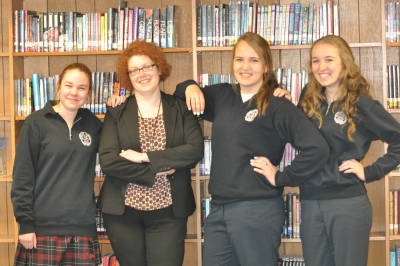 First and foremost, Kim Fahner is a writer. With three published books of poetry under her belt, another almost complete, as well as a new novel in the works, Fahner is immersed in the world of writing. On top of this, Fahner is also a full time teacher at Marymount Academy, where she often brings her world of writing and the appreciation of the written word, her students, and the community together. The result is the event that she has planned for April 17, 2015.
Remembering a similar event back in 1998 put on by Roger Nash, former Greater Sudbury Poet Laureate, and Ontario Representative for the League of Canadian Poets at the time, Fahner thought that a similar event would be a great way for the Sudbury community to celebrate National Poetry Month in April. Contacting some of her poet friends, the (W)rites of Spring Poetry Evening came into being, sponsored by the League of Canadian Poets, The Canada Council for the Arts, and Marymount Academy. The evening will be a celebration of poetry for the community, with five notable Canadian poets slated to perform: Tom Leduc (current Poet Laureate for Greater Sudbury), Roger Nash (past Poet Laureate), Kim Fahner (Sudbury poet), Susan McMaster (Ottawa poet), and Tanya Neumeyer (Toronto performance poet). The theme for this month is poetry that celebrates food, but a wide variety of poems will be performed. People of all ages are invited to attend, and it is Fahner's hope that the evening is an opportunity for the community to appreciate really great poetry. "When I think back to the event in 1998, I recall a really amazing evening that brought together talented writers and people who really appreciated poetry," Fahner stated. " I really believe that art elevates people, so I think this will be a brilliant evening that celebrates the beauty of poetry."
Books will be for sale, with poets available for signings after the event. Refreshments will also be for sale. Admission is free, but there will be a silver collection with proceeds being directed to support the Poet Laureate's Young Writers' Guild at the Greater Sudbury Public Library. For further information, please call Kim Fahner at Marymount Academy at (705) 674-4231.