May 22, 2014
SCDSB Students Soar at Canada Wide Science Fair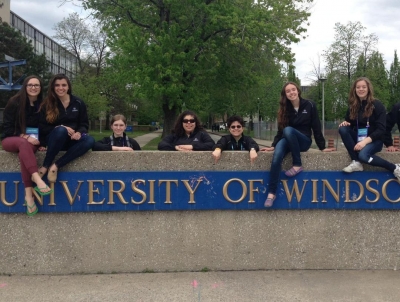 SCDSB regional science fair winners spent 8 days in Windsor competing at the Canada Wide Science Fair, accompanied by teachers Loretta Cuda and Melissa Talevi recently. They competed againstt 463 students from across Canada.
Marymount students Hailey Mackenzie and Dayna Rachkowski won the Resource Award for developing a better way to use natural resources that provide sustainable sources of food, products or prosperity for their project titled "Aquaponics"
Marymount students Alex Millar and Marika Moskalyk won an Excellence Award – Silver Medal for their project titled "Green Gold: Phytoremediation of the Long Lake Gold Mine".
St. James student Marina Leblanc won an Excellence Award – Bronze Medal for her project titled "Cold Feet".
Picture: l-r
Marika Moskalyk, Alex Millar, Marina Leblanc, (teacher)Loretta Cuda, (teacher) Melissa Talevi, Dayna Rachkowski, Hailey Mackenzie