June 23, 2017
Regals Win Big at the House of Kin Sudbury Sports Hall of Fame Dinner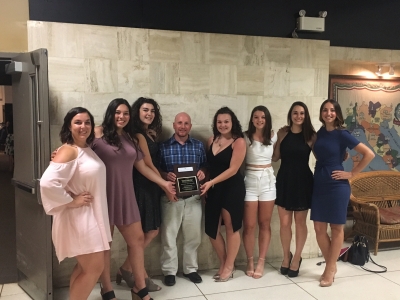 Allison Byrnes – High School Female Athlete of the Year
This was the second year in a row that Allison was nominated for the High School Female Athlete of the Year. She's a two-time Marymount Senior Athlete of the Year and was selected among three of her peers from area schools around Sudbury as the top female high school athlete in the city. Allison was the offensive MVP of the flag football team and the MVP for the soccer team. She also attended OFSAA for track and field and was a key player for the Senior Volleyball team and the Badminton team. Allison is heading to Carleton University next year to study Forensic Psychology and is considering trying out for the Varsity Girls' Soccer team.
Flag Football Team – High School Team of the Decade (Inaugural Award)
The Flag Football team was nominated for the first time as "High School Team of the Year" after their impressive undefeated season once again this year. What the team didn't realize is that there was something else in store for the them. The awards committee decided that this was the year to start a new award called the "High School Team of the Decade," and with their current string of six consecutive city championships, there was no better recipient than our very own Regals Flag Football Team. The Chairman and creator of the Sudbury Sports Hall of Fame made the presentation and extended his congratulations on this incredible run. Team Members Kayla Yitts, Tyanna Soucy, Jade Davies, Cassidy Burton, Allison Byrnes, and coaches Julia Boschetto, Tori Jewell, and Dan Bartolucci were on hand to receive the award.