April 26, 2011
MMA's Envirothon Teams Take Top Spots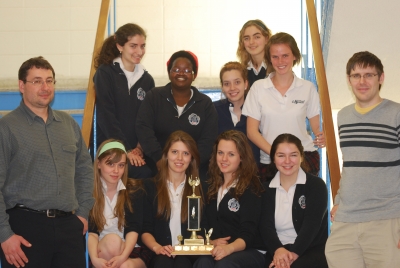 Students from Marymount Academy walked away from the region's ninth annual Sudbury regional Envirothon competition as winners. In fact, the school's two entries took the top two spots in this year's competition. The Envirothon is a hands-on environmental program for students in Grades 9-12 and creates awareness about environmental issues in a variety of subject areas. Teams of 5 students prepare for the competition by intensely studying the various topics as well as preparing themselves to put together a project at the competition related to a different environmental issue -which is chosen every year. This year's topic was "Protection of Groundwater Through Urban, Agriculture and Environmental Planning".
Jason Weiler, the Marymount teacher in charge of the team has been involved with the Envirothon for the past 6 years and his teams have taken the top spot for 5 of those years. "It is a real credit to my students who continue to embrace the environment," Weiler stated. "They are extremely dedicated to the team, and to being stewards of the earth, and am extremely proud of their achievements."
Teammate Jenna Floyd (Grade 10) who is on the first place team was thrilled with their win and was excited for the upcoming competition. "It was a fantastic learning experience for us," Floyd said. "It has really given us a chance to take our academics outside the classroom and embrace learning in a whole new environment."
Both teams from Marymount will be moving on to the Provincial competition which will be held May 5th – 8th at the Tim Horton Onondaga Farms in St. George, Ontario.