November 02, 2016
Marymount Regals win 6th consecutive Division 1 City Championship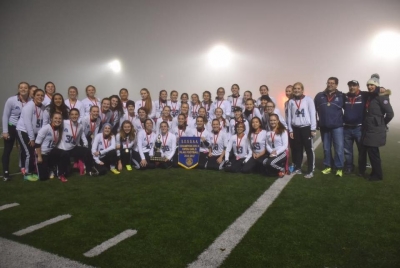 Head Coach Dan Bartolucci couldn't be more pleased with the mental and emotional strength of all the players during an overtime period that lasted nearly 40 minutes. After trading offensive possessions a number times and nearly scoring on a couple of occasions, running back, and Grade 12 veteran Allison Byrnes ran in for the touchdown and sealed the 22nd consecutive win and sixth consecutive city championship for Marymount.
"What these girls have achieved is pretty much unbelievable. That's back to back undefeated seasons for Marymount flag football. In eight games this season we had only 8 points scored against us and six games where our defense did not allow a single point. Jason Weiler has done an amazing job teaching these girls how to play defense, and in return, the girls have rewarded us by leaving everything out on the field. As stressful as it was on the sidelines, I'm glad this was a defensive battle. Our team rallies around the defensive and to see what they were able to do against a very strong Confederation team was incredibly fun to watch."
Marymount's victory came under a layer of dense fog. The bench could not see the stands and then fans could not see the bench. For many in attendance, it was the roar of the players on the field that confirmed Byrnes got into the end zone. Go Regals Go!!!