February 21, 2012
Marymount Girls and St. Benedict Boys City and NOSSA Champs Once Again!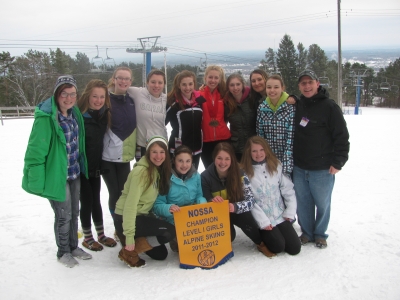 The Level 1 Girl's and Boy's Alpine Ski Teams at Marymount Academy and St. Benedict's have once again qualified for OFSAA. This is the second year in a row that the two teams have earned top honours at both championships. Going into the season, both teams knew that they had the potential to be the dominant teams on the hill and the results of both race days definitely proved just that. At the SDSSAA level, Kate Palkovits found her best challenge from her own team as Danielle Burla edged Kate out of top spot in the Giant Slalom. The girls traded first and second positions in both races with Kate just squeaking out the first place overall combined times. Mackenzie Webber finished fifth overall and these three outstanding finishes earned Marymount the overall team title. On the boys side, it was Spencer Dailey and Zack Filipov trading second place finishes in both races with Spencer just edging out Zack in the overall combined times. Adam Goegan's fourth and sixth place finishes were enough to earn St. Ben's their city championship. At the NOSSA level, Kate Palkovits backed up her results from the previous week by walking away with first place finishes in the Slalom, Giant Slalom earning the overall combined NOSSA champion title. Danielle Burla and Mackenzie Webber finished fifth and sixth overall and once again, this was enough to crown the Marymount team NOSSA champs. For the boys, it was a bit closer at the NOSSA level. Spencer Dailey finished fourth overall and Adam Goegan finished sixth overall. Zack Filipov's seventh and eighth place finishes were enough to give St. Ben's the overall team title for the boys. The club trained Level 2 skiers from both schools also made a name for themselves. Lauren Kyle earned top honours at NOSSA and will represent the association at OFSAA as the top Level 2 female qualifier. This will be Lauren's first OFSAA experience and she looks to continue making a name for herself on the slopes. McKenna Urso from Marymount also made an impression finishing sixth overall among the Level 2 skiers as a grade nine student.
The five top skiers for both Level 1 teams will travel together to the OFSAA Championships to be held at Blue Mountain February 26th – 28th. Marymount's team will consist of Kate Palkovits, Danielle Burla, Mackenzie Webber, Kelsey Roy, and Lyndsay Greasley. The St. Benedict's team will consist of Spencer Dailey, Adam Goegan, Zack Filipov, Tyler Provencal, and Ryan Bell. Marymount will be looking to improve on their 7th place overall finish in the province from last year.