March 04, 2014
Marymount Alpine Skiing – It's a 4-Peat and an OFSAA 5th!!!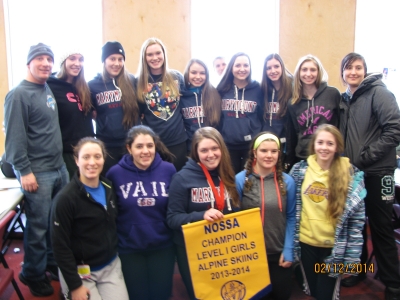 On Wednesday, February 12th the Marymount Alpine Ski Team successfully defended last year's title as Level 1 NOSSA Girls' Champions and won the Northern Ontario Championships for the 4th year in a row.
Competition was extremely close this year and the skiers were challenged with an extremely difficult slalom course in the morning. Ultimately, this provided excellent race experience for five skiers who represented the NOSSA Champs at OFSAA. Danielle Burla, Katherine Boyce, Toni Teale, Carissa Roy, and Marika Moskalyk travelled to Blue Mountain in Collingwood along with a contingency of skiers from a few other schools from Sudbury to represent the Northern Ontario District at OFSAA.
On Day 1 of competition, Marymount jumped out of the gate and tackled a long, challenging slalom course. Danielle Burla finished in 12th place overall while Katherine Boyce finished in 14th overall, which included a second run that was the 6th fastest time on the course for the day. Along with the remaining team results combined, the outstanding racing helped earn Marymount a 5th place overall finish as a team. Absolutely unbelievable!! Equally impressive on Day 2 was Danielle Burla's two Giant Slalom runs. Danielle finished in 9th place overall among the whole group of Level 1 Girls' racers.
Congratulations is extended to the whole Marymount Alpine Team on their incredible accomplishments once again this year. These girls have created memories that will surely last a lifetime!