November 06, 2017
Marymount Academy wins 7th Consecutive City Championship!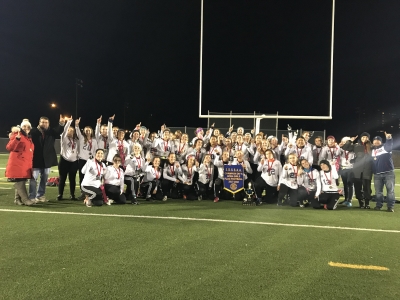 A number of years back after Marymount won their 2nd consecutive title it was written that they still had a long way to go to match the impressive win streak of another local high school which stood at 6 in a row. That journey was completed on Friday night as the Marymount Regals edged out the Confederation Chargers 7-1 to earn their unprecedented 7th consecutive flag football championship.
After Confederation kicked a 1-point rouge to begin the fourth quarter, the Regals offense took charge and held the ball for the next eleven minutes of the quarter, completing the impressive drive with an Allie Weiler handoff to full back Carlie Parker from the 3-yard line straight into the end zone. Allie Weiler kicked a successful PAT and left only 54 seconds on the clock.
After a couple of threatening plays the Regals' defense, coached by Jason Weiler, and had five shutouts in eight games, shut the door and secured the incredible win. Marymount had an impressive 27 game win streak dating back to 2014 that Confederation halted with a 1-0 win over the Regals two weeks ago in their regular season matchup. Head coach Dan Bartolucci explained
"We were disappointed after the loss to Confed. a couple of weeks ago, but we weren't crushed. Confed. is a fantastic team, a team that forces us to be better. We learned a lot from that game, made some adjustments, and really worked hard in practice this past week. The Marymount and Confederation flag football rivalry is arguably the best rivalry in high school sports. There us a huge level of mutual respect on both teams. I could not be happier for each of our coaches, players, parents, staff, and alumni that have been supporting us with great numbers at each of the games this season. The crowd noise and energy at James Jerome on Friday night will be remembered by many for a long time."