April 16, 2015
Marymount Academy Celebrates International Moment of Laughter Day – April 14th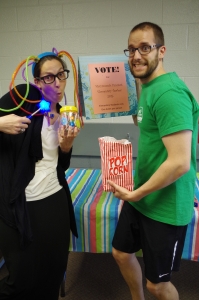 Studies have shown that laughing not only lowers blood pressure and reduces stress hormone levels, it also improves cardiac health, boosts T cells, triggers endorphins, and is a fabulous ab workout! Best of all, laughter has been proven to increase our overall sense of well-being. So, the goal for the day at Marymount Academy on April 14, 2015 was to get people laughing!
The staff posted several hilarious visual jokes around the school, and told jokes between periods over the P.A. system.
At lunch, students who told the librarian a funny joke won a prize. Also, secondary students were invited to join the Improv Club for several "moments of improvised laughter" while elementary students were invited to vote for their funniest teacher.
The winner by a landslide was teacher Debra Michaud! She received a silly headband and a jar of candy along with the coveted Wand of Laughter. Teacher Colin Lapalme came in a distant 2nd and received a bag of leftover candy.
It was a "funderful" day at Marymount Academy. Laughter really is the best medicine.