October 15, 2012
M.M.A. Gets Into the Books with Teen Read Week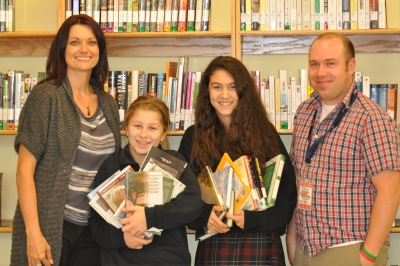 As part of the first ever Sudbury Teen Read Week, Marymount Academy students in teacher Allison Cameron's English class got to visit the Sudbury Public Library to take part in the official launch of the event. Along with two other secondary school classes, the Marymount students were welcomed by event coordinator Pierre Dubuc, the Child and Teen Programmer for the Greater Sudbury Library.
Teen Read Week is a literacy initiative of the Young Adult Library Services Association that began in New York. This is Sudbury's first event and its focus is to encourage teens to regularly read books just for fun so that reading recreationally becomes a habit.
As part of the official launch, the students were encouraged to attain a library card if they didn't already have one and learn more about the services and products offered at the library including books, e-books, dvd's etc. Also on hand were representatives from several community organizations to talk to students about their connection to the library and literacy including Laurentian University, Cambrian College, College Boreal and the Student Action Center for Youth (S.A.C.Y.).
Cameron was excited for her class to be invited to the Teen Read Week Launch and encouraged all of her students to sign up for a library card if they didn't already have one. "What a great opportunity for our students to see what amazing books are available to them," Cameron stated. "This event is a great way to engage our students through recreational reading – it doesn't just have to be about assignments and school work. Teen Read Week emphasizes the importance of reading books just for fun, and I am sure that my students will respond enthusiastically!"
Events are planned for the remainder of the week at several of the Sudbury library locations including a "Walking Dead Project Runway" competition on Thursday at the newly renovated South End Library. For more information on all of these events, visit the Greater Sudbury Library website at www.sudburylibraries.ca.