June 02, 2016
Holy Cross Cubs challenge the Marymount Regals to raise funds for Fort McMurray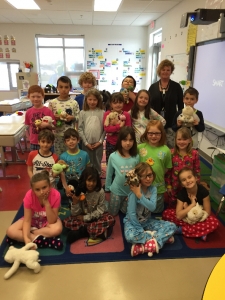 On Thursday May 19th the students from Holy Cross School challenged the students from Marymount Academy to show their school spirit by making donations to the victims of the Fort McMurray fires. Students made donations to be able to wear their pajamas to school. The fundraiser began with a conversation that Tania Fay initiated with her grade 2 French Immersion Class. "I had met a teacher from Thunder Bay and through twitter learned that his class was challenging others to help those devastated by the fire. So in my class it began with a conversation and I asked them, how could we make a difference and help this community. The rest was the children," explained Tania.
The schools had each set goals to raise $500.00 or more and were excited to see which school would be victorious in the friendly battle. The Regals fell just shy of their goal raising $436.30. The Cubs were delighted to more than double the Regals efforts collecting a total of $1025.11. In this challenge however there were no losers as all staff and students from both schools should be commended on their efforts in raising a combined total of $1461.41 for a great cause.
One student in Mme Fay's class was so moved by the stories of the victims that she wanted to do more. Maili Jutila asked her mom to contact a local new business run by two sisters who design their own jewellery to see if they would be interested in
co-designing a special necklace. Max and Mel of "Mwords" were instantly moved by Maili's desire to help and jumped on board. Maili sent them her design ideas which included a sketch of her two hands with the words "helping hands" written inside.
The campaign is launching this week and all proceeds from the necklace sales will be donated to Fort McMurray relief efforts.